In this tutorial, I will show you how to install TestNG in Eclipse.
TestNG is a testing framework designed for the Java programming language. The framework is inspired by JUnit and NUnit.It is the cutting edge test automation tool that overcomes the limitation in the JUnit.In its initial era, it was only used in unit testing of the Java projects during the development phase.
But nowadays it has become very popular amongst the testing fraternity because of its rich feature.TestNG plays an instrumental role in the test script development as well as test suite creation and execution. Some of its cool features are TestNG annotations, test case management, parallel execution, effective reporting, and much more. In this post, you will learn how to install TestNG in Eclipse. Please follow the following steps to install TestNG in Eclipse.
Steps to Install TestNG in Eclipse
Step 1: Launch the Eclipse IDE and go to the Help > Install New Software.
Step 2: The following dialog box will be displayed, click on the "Add" button.
Step 3: In the Add Repository dialog box, provide any name, let's name it as "TestNG" and in the location field type "http://dl.bintray.com/testng-team/testng-eclipse-release/" and click on the Add button.
Step 4: Eclipse will start looking for the TestNG plugin and might take a few seconds. Once it can find TestNG it will be displayed in the Software list. Select the checkbox against TestNG and click on the Next Button.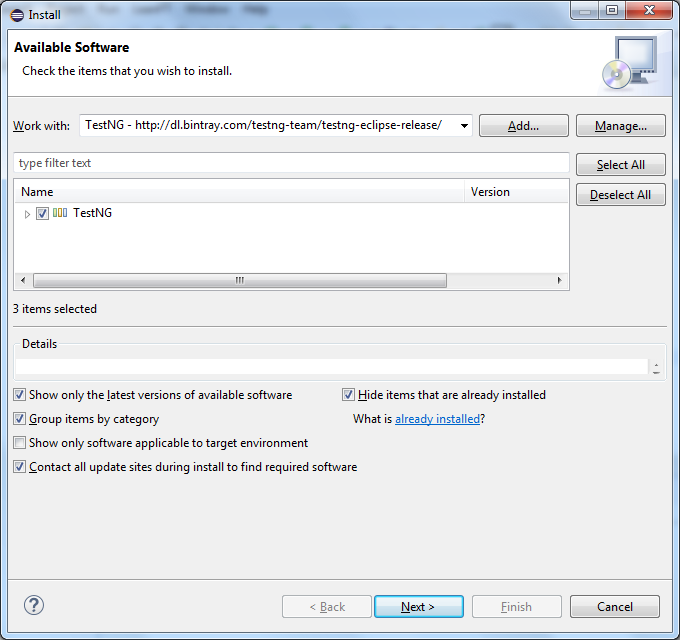 Step 5: You might see the following dialog box. Select TestNG and click on the "Next" button.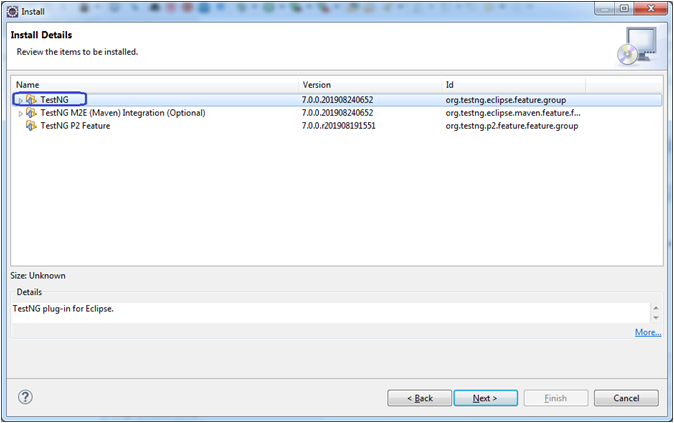 Step 6: Select the "I accept the terms of the license agreement" and click on the Finish button
Step 7: You may see a Security Warning dialog box, in that case, click on the "Install anyway" button
Step 8: The installation is now complete. Click on the "Restart Now" button.
Step 9: After the restart, you can verify whether TestNG was installed successfully. Do a right-click on your project and see if TestNG is displayed in the opened menu option.
Now you are good to go and start executing your tests using TestNG. To kick start with Selenium WebDriver please to my post, Configure Selenium Webdriver With Eclipse
Recommended Posts