In this article, we will learn how to download and install UFT One. Micro Focus has recently released the latest version of UFT v15.0.1.After onwards this version UFT is now known as UFT One. In order to download UFT One, you have to navigate to https://www.microfocus.com/en-us/products/uft-one/free-trial.You will have to first register yourself to download the trial version.
Steps to download UFT | UFT One
Step 1: Once you will log-in with your valid credentials you will see a download link to download UFT.

Step 2: Click on the download link. A new page will open. Scroll down a little bit unless you will see the following options.
Step 3: Click on the UFT DVDZip option. UFT one will start downloading.
Steps to install UFT One
Step 1: Once the Zip file download is complete, extract the entire zip file to your machine and double click on the setup.exe file.
*Note: Some antivirus applications might try to block the installation process by considering it as a suspicious file. In this situation, either add the executable file to the exclusion list or disabled the antivirus for a few minutes.
Step 2: Select the first option to install UFT
Step 3: A window will be shown to check and install the prerequisites. Click on the OK button.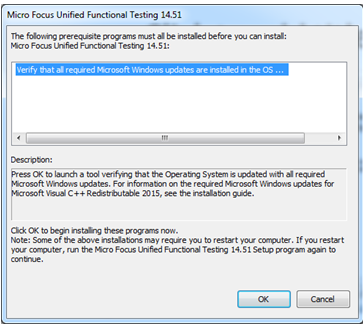 Step 4: UFT installation welcome window would be shown. Click on the Next button to proceed further.
Step 5: On the next window, Accept the License Agreement and click on the Next button.
Step 6: Add-in selection option window will be shown. You can keep the default add-ins as it is or you can select the required add-ins and press the "Next" button until UFT installation is complete.
Step 7: After completing the installation you will see the below window. Uncheck the Readme Checkbox.
Step 8: Open UFT from the start menu or from the Desktop shortcut icon of UFT.It will display you a License warning window. Your trial licensed UFT for 60 days is ready to use.click on the "Continue" button.
Step 9: Add-in Manager window will be shown. Select the required add-ins and click on the OK button.
UFT will open and now you can create your automation scripts. Enjoy 🙂
Recommended Posts