A Page Checkpoint is used to check the links and the sources of the images on a Web page. We can also instruct page checkpoints to include a check for broken links.
A Page Checkpoint is added through Standard Checkpoint by adding a checkpoint on a Web page.
Steps to add a Page Checkpoint
Step 1: Select the Standard Checkpoint option while doing the recording.
Step 2: Click anywhere on the web page and select the page object as shown below and click on the "OK" button.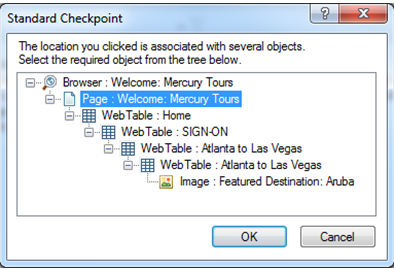 Step 3: Page Checkpoint Properties window will be displayed with details like the load time of the page in seconds and the number of images and links on the page.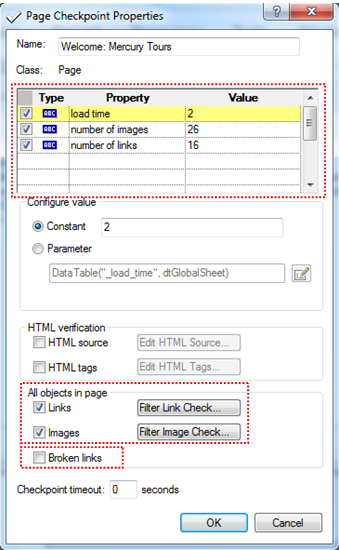 Step 4: You can also click on the Filter Link Check and Filter Image Check button to exclude certain links and images from the Page Checkpoint. In the following snapshot, I have excluded a hyperlink from Page Checkpoint. In the same way, desired images can be excluded from the page checkpoint
Step 5: If you also want to check broken links on a page you have to select the "Broken links" checkbox as shown in step 3. By default, the checkbox is unchecked. Once you are done with the desired selection click the "OK" button and save the Test.
Automatic Page Checkpoints
You can also instruct UFT to create automatic page checkpoints for every page during a recording session by selecting the "Create a checkpoint for each Web page while recording checkbox" in the Web > Advanced pane of the Options dialog box which can be accessed by "Tools > Options > GUI can Testing tab > Web > Advanced" node). By default, the automatic page checkpoint includes the checks that you select from among the available options in the Web > Advanced pane.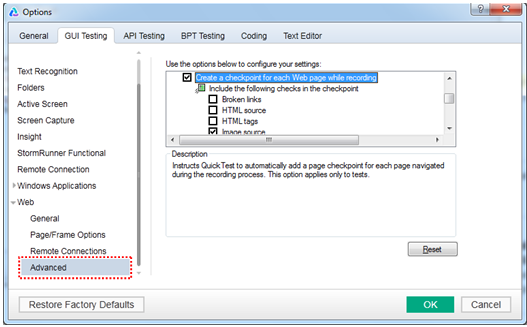 *Note: You can also add Standard Checkpoint without recording by using Active Screen. Select the Active Screen pane and do a right-click on it and select the "Insert Standard Checkpoint" option.
Recommended Posts